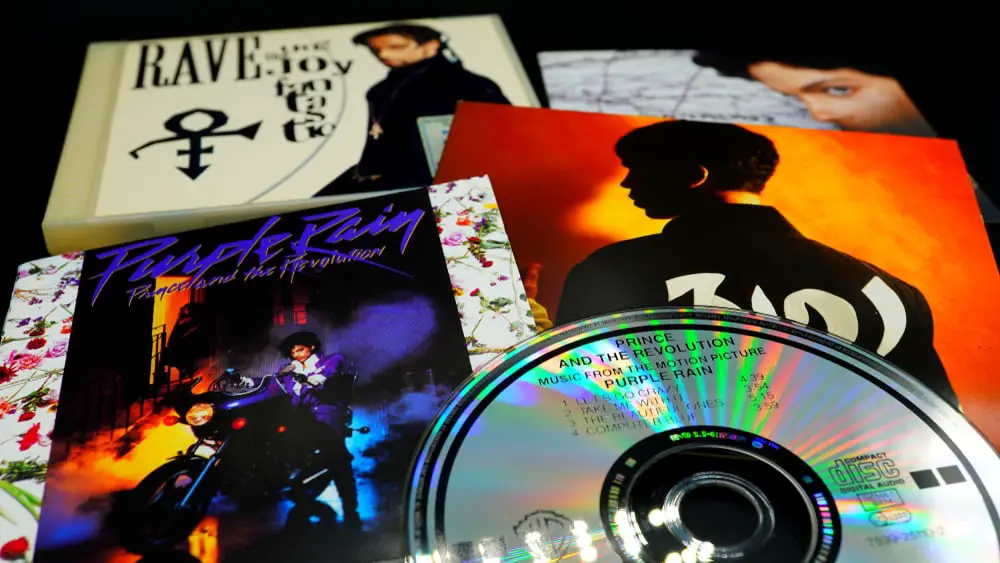 Virtually every guitarist has a guitar idol. We try to mimic our guitar idols in how they dress, sing, and play. We even try to play the same type of guitar that they do.
That's why it's not surprising to ask what type of guitar Prince played?
For the guitar legend that he is, Prince played a lot of guitars. Among them were The Schecter Cloud, Hohner Madcat, and Auerswald Model C Guitars. It's not a surprise since he's a multi-instrumentalist who played different instruments and guitar styles.
This article will show you some of the major guitars Prince played, especially the one he played the most.
Who is Prince?
Before you rush off looking for the guitar Prince played, here's a little detail about the guitar legend.
Prince Rogers Nelson is best known for his iconic name Prince. He is a music and guitar legend who is highly skilled in playing several instruments.
As a multi-instrumentalist, Prince personally played all the instruments in some of his albums.
Prince is a guitar legend who played multiple guitar styles. His dexterity in playing the guitar was also shown in his styles of music.
Prince could easily sing and play jazz, funk, R&B, soul, rock, hip-hop, new wave, pop, and synth-pop. So long as it's a guitar, Prince can play it.
With such a massive amount of skill, it's no surprise that Prince played several types of guitar in his lifetime.
What Types of Guitar Did Prince Play?
As the musical and instrumental artist that he was, Prince was known for his eccentric style of dressing and playing. In most of his performances, Prince often played with a customized guitar.
As a rule, Prince always played a guitar that reflected his personality. Just as he could go high on musical notes with his voice, he could easily play amazingly high notes.
Although Prince played a lot of guitars, his most played and well-known are Madcat, Schecter Cloud, and Schecter Auerswald Symbol guitars.
The Schecter Auerswald Symbol Guitars
For his Schecter Auerswald Symbol guitars, he had two. One colored purple and the other golden maple. He was fond of playing the Habibe, the purple Schecter Auerswald Symbol guitar.
Prince played the Schecter Auerswald Symbol guitars from 1996 till 2016. The two guitars painted purple and golden maple became his symbols.
Each guitar has customized EMG magnets attached, a shorter length scale, and we're made from refined maple wood. They appeared in most of his live performances and albums, especially Come and Emancipation studio albums.
The Schecter Cloud Guitars
From 1984 to 1993, Prince primarily played on his beautiful Schecter Cloud guitars. He had three custom-made Schecter Cloud guitars known by their colors; the White, Yellow, and Blue Angel.
These guitars marked the start of Prince's partnership with Schecter Guitars and Dave Rusan. Prince played the Schechter Cloud guitars during the mid-80s when he was a hot cake in pop music.
The Schecter Cloud guitars featured in most of his albums during the mid-80s, especially the Graffiti Bridge, Purple Rain, and Diamonds & Pearls albums.
In June 2020, the Blue Angel was auctioned for $100,000. It was his most iconic Schecter Cloud guitar.
Hohner Madcat
Prince began his journey of iconic guitars with the Hohner Madcat in 1980. He continued playing the Hohner Madcat until 2016, even after buying the more iconic Schecter Cloud and Auerswald Symbol guitars.
A fascinating history about the Hohner Madcat is that Prince bought it for about $30 at a petrol station in the late 70s.
While it's not the most iconic guitar Prince has played, it was the first to stand as a symbol to Prince. In his earlier years, the Hohner Madcat featured in almost all Prince's albums.
The flamed maple-colored guitar was prominent in the albums Dirty Mind and Musicology, among others.
Like Prince's subsequent guitars, the Hohner Madcat was modified to reflect Prince's personality and upgrade its functionality.
Auerswald Model C Guitar
Before playing his Schecter Auerswald Symbol guitars, Prince played the Auerswald Model C guitar. Although he was as consistent with it, it was one of his iconic guitars.
The Auerswald Model C was the symbol of the Nude era.
It was given to Prince as a royal gift from the German princess Gloria von Thurn und Taxis in 1986.
Conclusion
As the guitar legend, Prince played a vast array of guitars throughout his career. Most of his careers were uniquely modified to fit his style of music.
While Prince favored his Schecter Auerswald Symbol guitars, especially the purple-colored Habibe, he wasn't limited to them.
The Schecter Cloud and Hohner Madcat guitars were iconic guitars uniquely associated with Prince.