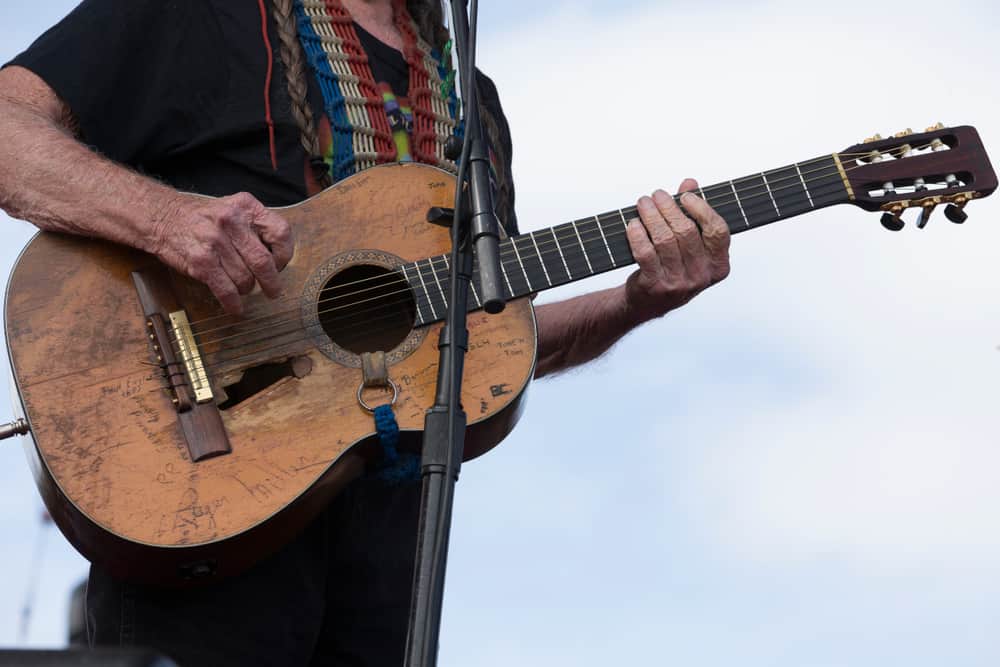 How much is Willie Nelson's guitar worth? For a musician as iconic and renowned as Willie Nelson, his guitar must be pretty valuable, right? This question has been on the minds of many of Nelson's fans and guitar players alike.
Some say it is priceless, while others estimate its value at around one million US dollars. No matter what the price tag may be, one thing is sure – Willie Nelson's guitar has quite a history!
Trigger, Willie Nelson's guitar, is one of the most iconic and well-traveled instruments in music history. Nelson bought the Martin N-20 nylon-string classical acoustic guitar in 1969 for $750 from a luthier, Shot Jackson. The current value of the guitar is estimated at $800k-$900k.
After reading this article, you will know all there is to know about Willie Nelson's guitar, Trigger – from how much it is worth to its interesting history.
The Story Behind the Trigger Guitar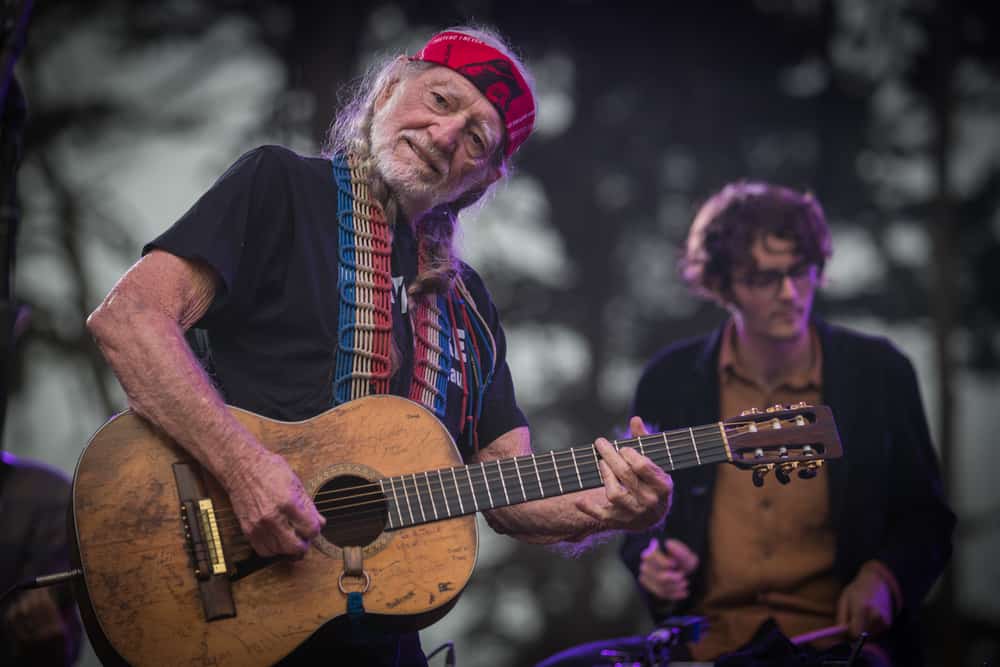 Willie Nelson went through a variety of different instruments. Nelson mostly played Fender guitars, Gibsons, Telecasters, and Jazzmasters until 1968. Then in 1969, he found his signature sound with the famous Prismatone pickup system integrated into an 800C acoustic-electric handcrafted by Baldwin Company.
Unfortunately, the Baldwin didn't last long. After a 1969 concert at Floore's Country Store in Texas, a drunk man stepped on the guitar and caused serious damage. Nelson took the guitar to a luthier named Shot Jackson to get it repaired. Shot Jackson told him that the Baldwin was beyond repair.
However, he offered Nelson a Martin N-20 as a replacement. Nelson finally bought the Martin N-20 for $750. It was made out of Brazilian rosewood. But Nelson convinced Jackson to install the Prismatone pickup system and preamp from the broken Baldwin into it.
This gave the Martin N-20 its unique sound. Nelson nicknamed the guitar "Trigger" after Roy Rogers' horse. When asked about the name, Nelson often replied that his guitar was his horse.
What Is the Current Estimate of the Guitar's Worth?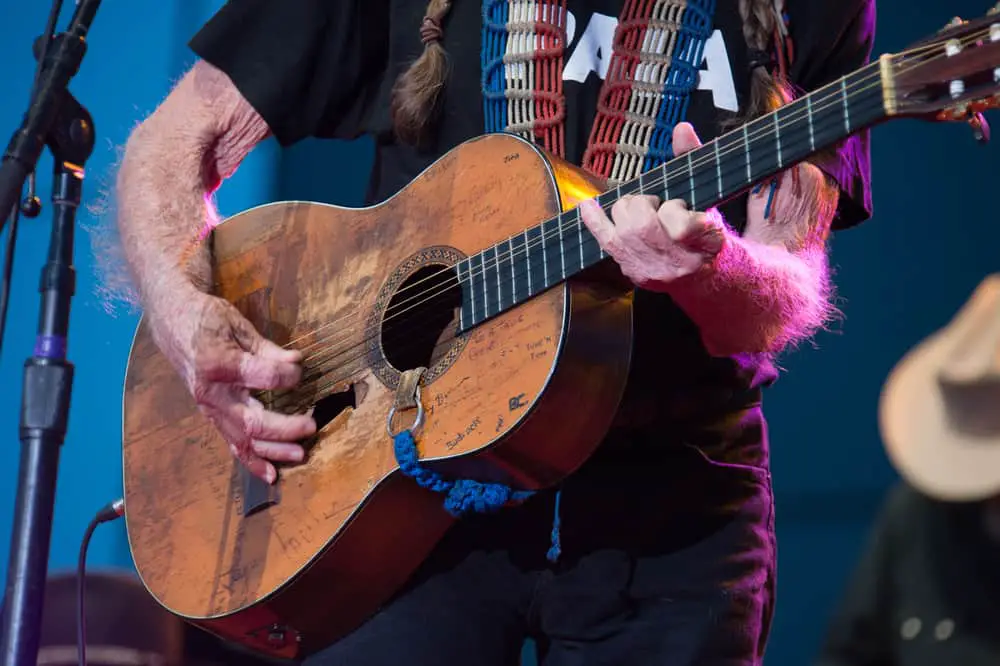 Nelson played Trigger for more than 50 years. Nelson's guitar has been with him through over 10,000 music shows and 85 studio albums. The guitar has definitely been well-traveled!
But have you ever wondered how much Willie Nelson's guitar is actually worth?
Willie Nelson's "Trigger" guitar is a Martin N-20 classical acoustic guitar. It is believed to have been manufactured in 1969 with serial number 242830. Nelson obtained it in the same year.
Martin N-20s are sold for between $5000-$15000. The current estimate of Trigger's worth is estimated around $800k-$900k. With its unique sound and interesting history, it is no wonder that Trigger is worth so much!
Trigger Is As Legendary as Willie Nelson
As any country music fan knows, Trigger is as legendary as Willie Nelson. The autographed guitar has been a fixture in Nelson's life for decades and has witnessed some of the most significant moments in country music history.
Over the years, Trigger has been autographed by countless musicians, lawyers, and football coaches. In his 2007 book "The Tao of Willie", Nelson expressed his feelings as:
"One of the secrets to my sound is almost beyond explanation. My battered old Martin guitar, Trigger, has the greatest tone I've ever heard from a guitar. If I picked up the finest guitar made this year and tried to play my solos exactly the way you heard them on the radio or even at last night's show, I'd always be a copy of myself, and we'd all end up bored. But if I play an instrument that is now a part of me and do it according to the way that feels right for me… I'll always be an original."
We can say that Trigger is more than just a guitar; it's a symbol of Willie Nelson's iconic career.
Conclusion
The Trigger is more than just a guitar to Willie Nelson – it's a part of him. It has been with him through thick and thin and helped him create some of the most amazing songs in country music history. The Trigger is one of a kind and will always be remembered for its unique sound and history.
If you're a fan of Willie Nelson, then you should know that Trigger is a legend in its own right. It's no wonder that it is worth so much!