Jimi Hendrix is one of the most popular Rock'n'roll artists in American history. His unique and soulful sound has been a source of inspiration to many rock and roll artists after him. With electric guitars integral to rock and roll music, Jimi Hendrix loved his guitar. He was once known as the god of electric guitars. 
For a man who was an ultra-talented guitarist, what guitar did Jimi Hendrix play?
While Jimi Hendrix has played various brands of guitars in his lifetime, he loved playing the Fender Stratocaster the most. He was so attached to the Fender Stratocaster that he even named it. 
Dive with me into a brief history of the great artist, his favorite famous guitar, and other guitars he was known to have used during his musical career. 
Brief History About Jimi Hendrix
Jimi Hendrix was an American singer and guitarist who cemented his place as one of the most iconic rock and roll artists of the 20th century. He is known for his unique and unorthodox style of playing the guitar, which has influenced a lot of guitarists, especially in the rock and roll world.
He earned a lot of success during his career before his eventual death in 1970. 
The Fender Stratocaster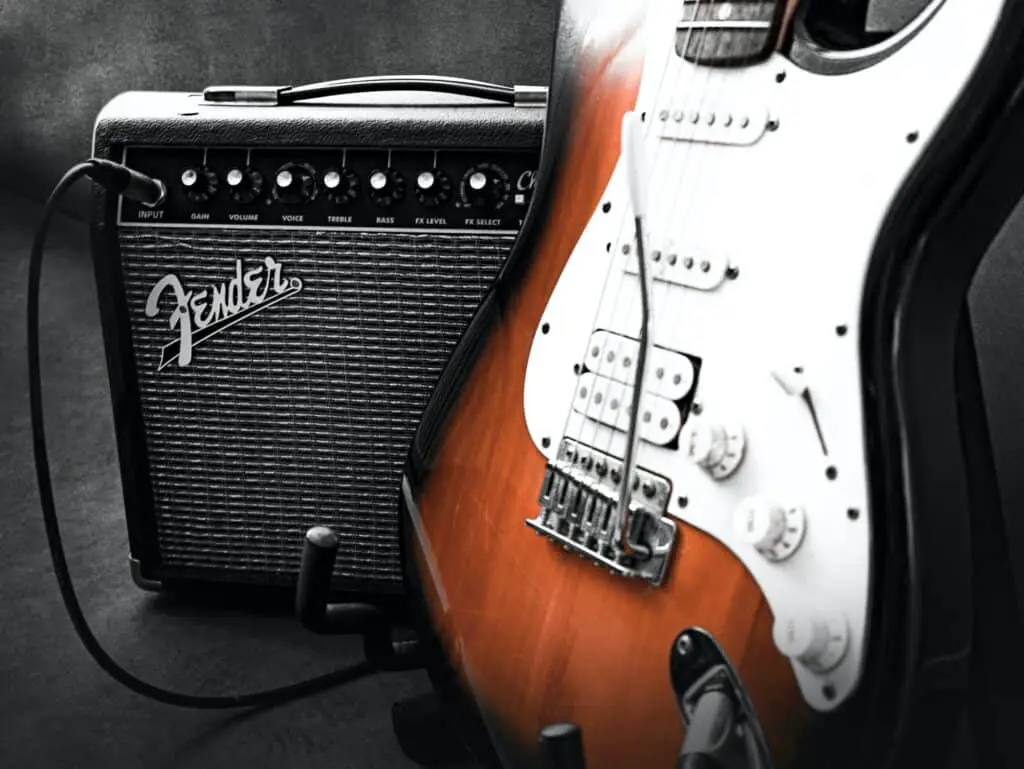 The Fender Stratocaster, also known as Strat, is one of the iconic and famous guitars in rock and roll. It has a long history behind it. 
The Strat was first introduced in 1954 by the Fenders musical instruments corporation led by Leo Fender and co. It has a cutaway with a top in the form of a horn mainly for balance. Its design has inspired a lot of modern electric guitars. 
The first-ever Fender Stratocaster owned by Jimi Hendrix was the white variant he named carol. Following this, Jimi used several other variants of this same fender Stratocaster. These guitars wouldn't last long as he was known for smashing his guitars after each session. 
However, the most famous Fender Stratocaster and perhaps the one he was most attached to was the Woodstock Stratocaster. It was the same guitar he used during the Woodstock festival. 
The Woodstock Stratocaster had a unique feature in that the headboard is attached to the neck and fret with bolts and screws. The Woodstock Stratocaster stood out in the uniqueness of its sound. 
Jimi Hendrix's interest in the Stratocaster helped grow Fender's brand and its guitars. 
 Jimi Hendrix didn't get his first guitar until he was 16. He was said to have used a broom and a ukulele with one string in place of a guitar when playing along to songs by famous artists like Elvis Presley.
Other Notable Guitars Used by Jimi Hendrix
While the Fender Stratocaster might be his favorite guitar brand, he is certainly known to have used other brands throughout his successful musical career.
The Gibson Guitars
Jimi Hendrix used a fair bit of Gibson guitars during his musical career. The popular types of Gibson guitars he used include
● The Gibson Les Paul
● The Gibson Flying V 
● Gibson SG custom
The left-handed Gibson V is one of the few guitars Jimi Hendrix didn't smash or burn. He used it in rotation with the Fender Stratocaster. He eventually gave the piece away. 
The Flying V's thick sound added a bit of uniqueness to Jimi Hendrix's music and his collaboration with other artists, most notably Lonnie Youngblood. 
There is no doubt that Jimi Hendrix increased the popularity of these guitars and ultimately prompted the manufacturers to improve on the product. 
Other Brands
Other Brands of guitars used by Jimi Hendrix include Zemaitis 12-String Acoustic Guitar, Epiphone Wilshire, Ibanez Jet King, and Supro Ozark. 
The above guitars were used mostly in rotation with the Fender Stratocaster and some exclusively on tours because of the unique sound they bring to the table. 
Conclusion
Jimi Hendrix is an influential figure in the history of rock and roll and American music. Although known for his wild display of burning and destroying guitars after wash sessions, his love for some of his guitars was still apparent. 
While he used different brands of guitars throughout his career, he was mostly seen using the fender Stratocaster.