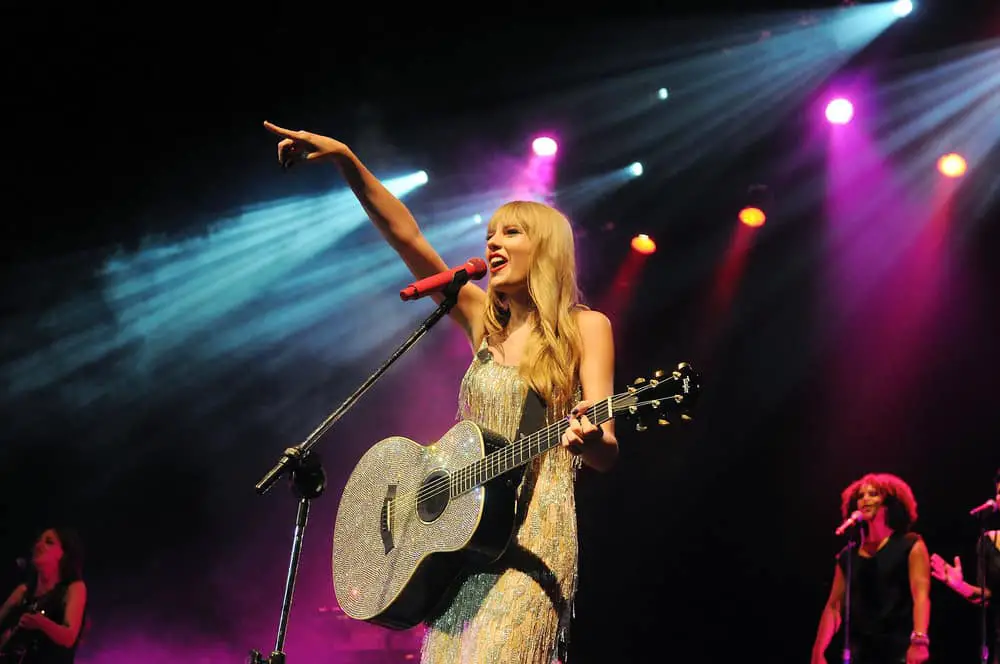 Since the release of her self-titled debut album in 2006, Taylor Swift has grown to become one of the world's biggest stars. Throughout her career, the Pennsylvania-born star has experimented with different genres.
It's been over a decade since the release of her first album, during that time Taylor Swift has released 8 other albums, and though she's leaning more on the pop side now, she's still very loyal to the guitar and the country genre.
Whether you're a fan of her music or just really into guitars, you'd at least want to know what type of guitar a legend like her plays.
So, what type of guitar does Taylor Swift use?
Over the years, Taylor Swift has used different guitars, both electric and acoustic-electric. But her most common acoustic-electric guitar is the Taylor PS-14CE Grand Auditorium, while a Red Sparkle Gibson Les Paul is her preferred electric guitar.
Taylor Swift is one of the world's biggest stars and has played a variety of guitars throughout her career. Read on to find out which guitar models have been used by this country-pop crossover sensation!
What Type of Guitar Does Taylor Swift Play?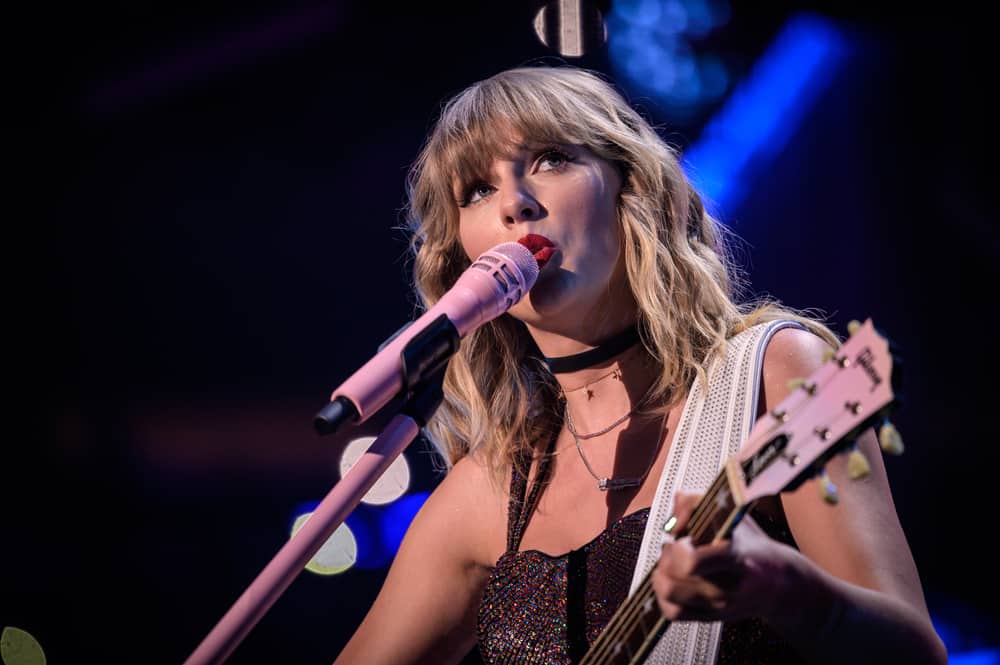 This is a question that has been asked by many of her fans. While her musical style has changed over the years, one thing has remained constant – her love for the guitar.
Here are some of the guitars that Taylor Swift has been seen playing over the years:
Taylor Presentation Series PS-14CE Grand Auditorium
Taylor Swift has released 9 albums, but none is yet to attain Fearless's critical and commercial success. The country-pop album detailing her life as a freshman in Highschool is widely regarded as her greatest work.
One of the album's lead singles is Fifteen, and in the song's video, you can see Swift playing the Taylor PS-14CE. She also used the instrument in most of her performances around that period. Even to date, the guitar still appears in her performances and photoshoots.
Unlike most high-end Taylor acoustic guitars, the PS-14CE doesn't have a spruce top. Its top has a deep flame finish and darker wood. The PS-14CE shares similarities with the flame koa model popular in the mid-2000s.
Taylor Swift Baby Taylor
Before she became the superstar we know today with tours around the world, Taylor Swift used to write and play songs in the back of her mom's car. 
The Baby Taylor was her preferred guitar. It's ¾ the size of a standard guitar and is perfect for young artists aspiring to be great. Though small, the Baby Taylor is respected for its quality.
The Baby Taylor is purely acoustic and has no pickup system, so you'll hardly see Swift playing it on big tours.
Taylor Swift's Baby Taylor model has her name stylishly written close to the guitar's saddle.
Gibson Les Paul Limited
Taylor Swift's Speak Now era is widely regarded as one of the greatest in pop music history. And in those two years of artistic elegance, the Gibson Les Paul Limited was her preferred electric guitar. She played it when recording her music and tour promotional videos.
Equipped with the then rare mini-humbuckers, the guitar's unique tonal character gave Swift's music a distinct sound.
The sparkling red guitar has its body, sides, and neck made from mahogany. Its fretboard is built from rosewood. The guitar is adorned with a mother-of-pearl trapezoid inlays on its headstock. Its headstock also features tulip-shaped machine heads and the Gibson Logo.
Gibson Les Paul Special
The Gibson Les Paul Special is probably one of Taylor Swift's most popular guitars and definitely her most beautiful one.
It was the trademark guitar of Swift's Red Era and played a huge part in the album's recording. The guitar was also used in most of her photoshoots and live performances in that period. All you need is one look at the guitar, and you'll see why she's mad over it.
The body has been adorned with complex yet beautiful designs, including flowers, hearts, and vines. It also has her lucky number 13 written on a diamond-encrusted finish.
The Bottom Line
Early in Taylor Swift's career, she was known for infusing bold and delicate acoustic guitar sounds into her music. Though professional studio guitarists played most of the guitar in her songs, Taylor Swift is no colt to the guitar's strings.
After spending years playing and learning from Nashville's best, she has upped her game and is one of the best guitar players today. She's good at playing both electric and acoustics. And if you've ever wondered what type of guitar she plays, she frequently plays the: Taylor PS-14CE, Taylor Baby Taylor, Gibsons Les Paul Limited, and a Gibsons Les Paul Special.