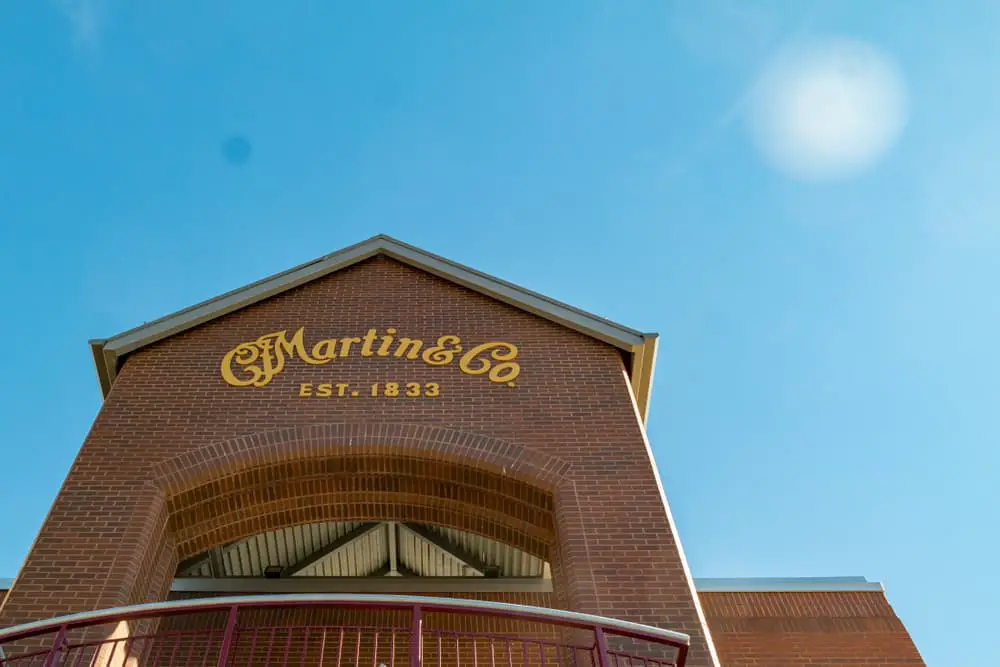 I'm a sucker for good guitars, and of course, the pricey ones have good kicks in them, but they aren't necessarily my poison. But a guitar with a good name can have all ten fingers any day, anytime.
The Martin Guitars is one of these steel-strung beauties that have solidified its name in the heart of guitar lovers for centuries, dating as far back as 1833.
Now, going all out and buying a Martin Guitar might be a bit of a task given the different variations and an extensive array of options to select from.
An excellent way to maneuver through your confusion is to find where these guitars are made, as this would help you pick out the very best as this information will influence the price-to-quality of what you'd be purchasing.
So if you wanted a Martin Guitar, where exactly are they made?
Martin guitars were exclusively made in the United States for quite some time. But over time, the guitar brand has expanded its operations across state lines to Navoja, Mexico.
This article will provide information on the sites where Martin guitars are manufactured. By examining the differences in quality, we will be able to determine whether the country of manufacture makes a difference.
Where Are Martin Guitars Manufactured?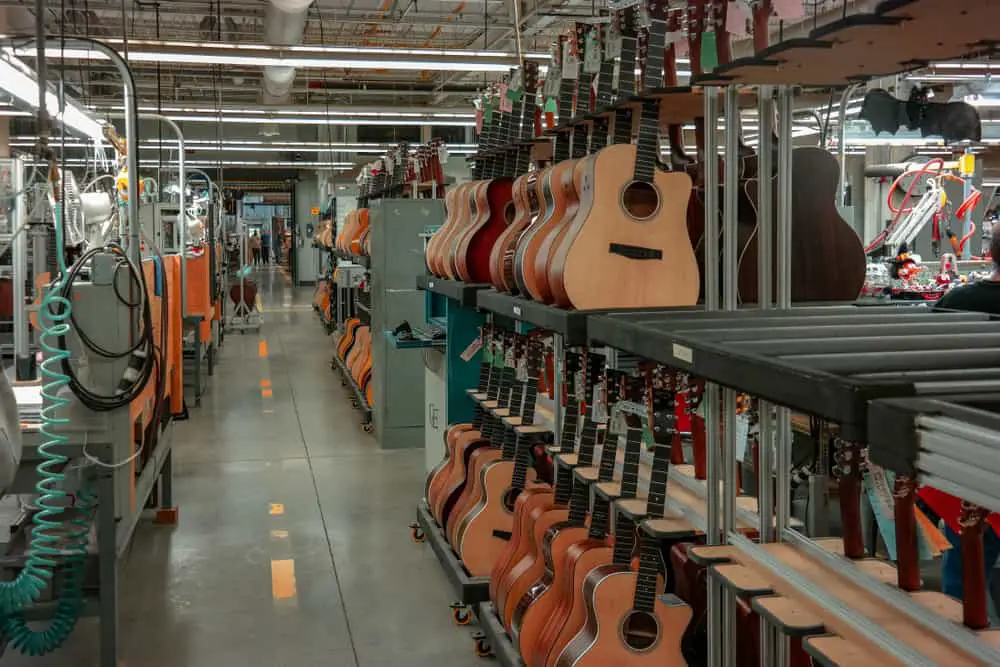 Welcome to Nazareth! 
Home to righteous carpenters and, by inference, good wood! And good wood equals good guitars for sure. 
Nazareth, Pennsylvania factory, United States, is the home to the Standard and Modern Deluxe Series of Martin Guitars. 
But their X Series, Backpacker Series, Dreadnought Junior, PA5 models, Martin Road Series, and a couple of ukuleles are manufactured in Navoja, Mexico.
Now that we've got the geography out of the way, the bell goes for history class.
Brief History of Martin Guitars
Well, sorry, not so sorry to bore you, but we can't be talking about guitars like this that are over a century and a half old without some history. It's only fair.
Welcome back to class. Shall we?
When it comes to acoustic guitars, Martin is a true industry leader. The company's history dates back to Christian Frederick Martin, who founded it in 1833. For many years, Martin's acoustic guitars have set the bar high for the industry, and it's safe to say that they're one of the most well-known brands.
Martin devised X-bracing in the mid-19th century. The guitar's bracing consists of wooden struts that bolster the soundboard and enhance the guitar's body. As a result of its increased tone and reinforcing features, X-bracing has become a standard feature on guitars.
The dreadnought guitar was invented by C. F. Martin. Today, the dreadnought is one of the most popular guitar designs of all time. Martin guitars have had a significant impact on popular culture for as long as they've been around.
More than three decades after Martins's debut on MTV Unplugged, the guitar continues to be heard in innumerable classic and modern songs from a wide range of musical genres.
Well, now you know a bit about the history of Martin Guitars. So let's understand why the manufacturing place even matters.
Why Does the Place of Manufacture Matter?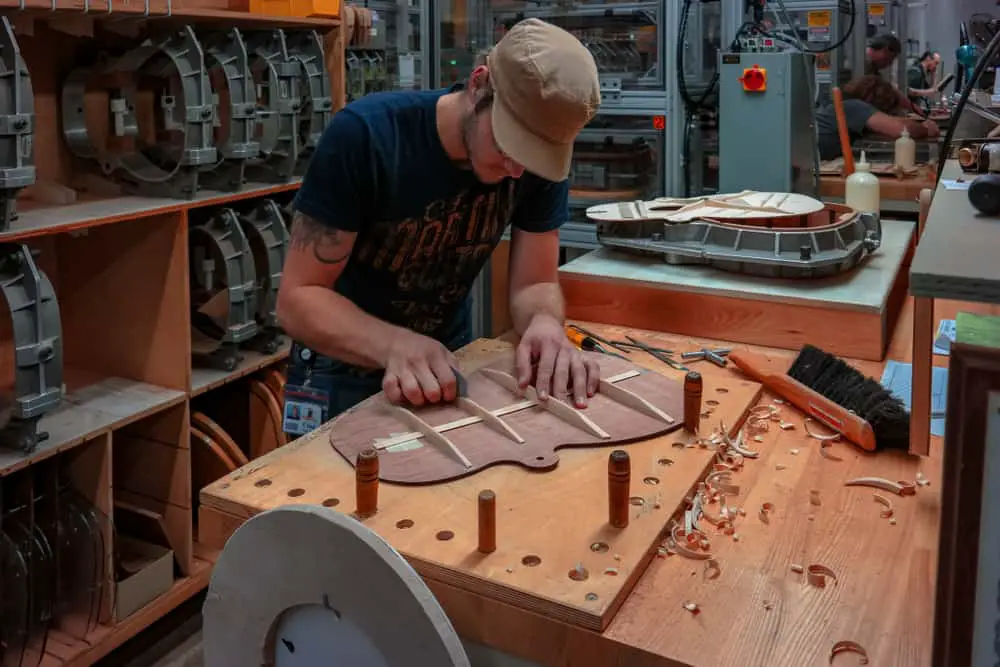 Martin guitars are made in two countries: the United States and Mexico. Regardless of where a Martin Guitar is built, does it matter where it was made? Is there any difference?
To put it simply, Martin guitars produced in the United States are of the highest quality. If you're looking for the best-sounding Martin acoustic guitars, look no further than Martin's Standard Series.
The manufacturing site in Nazareth, Pennsylvania employs highly skilled personnel who greatly value crafting the very best.
In the case of an alternative, Mexican-built Martin is a more cost-effective option. Despite the disparity in tone and quality, which is primarily due to the choice of lower grade materials compared to Nazareth's. But still, the Mexican build is beautifully set up.
The location where your Martin guitar is manufactured does matter. An American-built Martin is the pinnacle of excellence in the acoustic guitar world. 
However, you can be confident that a Mexican guitar will have a similar build quality and sound to a classic acoustic at a lower cost.
Conclusion
It's always a thing of joy to go somewhere and see a guitar with the headstock stamped 'Martin est. 1833", especially one that is really old. The tonal quality and range of these guitars are immeasurable.
To answer where Martin Guitars are made, we have discovered that they are made in the United States and Mexico and that guitars built in both locations are of very high quality.
Professional musicians use the Martin guitar, and whether you buy an American or Mexican Martin depends on your budget. Martin guitars have remained at the pinnacle of craftsmanship and tone quality to this day. Their relevance in the evolution of the acoustic guitar can not be overstated.