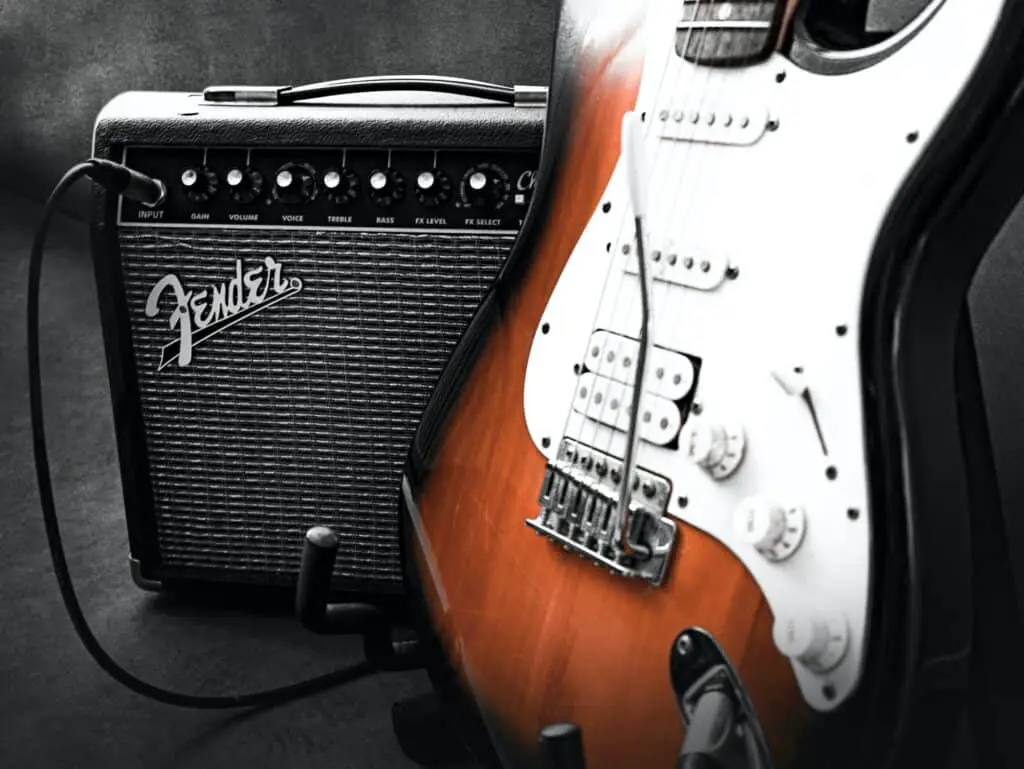 After deciding you want a guitar from the most reputable manufacturer in the marketplace- Fender, there's the question of cost. You want to have a reasonable estimate before walking into that store or ordering the guitar.
So, how much should you budget for a Fender guitar?
A typical Fender guitar ranges from $500 to $2500. Squier, a Fender subsidiary, produces more affordable versions of Fender's best-selling guitars. A regular Squier guitar costs less than $500.
There are various models of the Fender guitar. Let's explore most of them in this detailed guide and other burning questions you may have about the brand.
Fender Guitar Models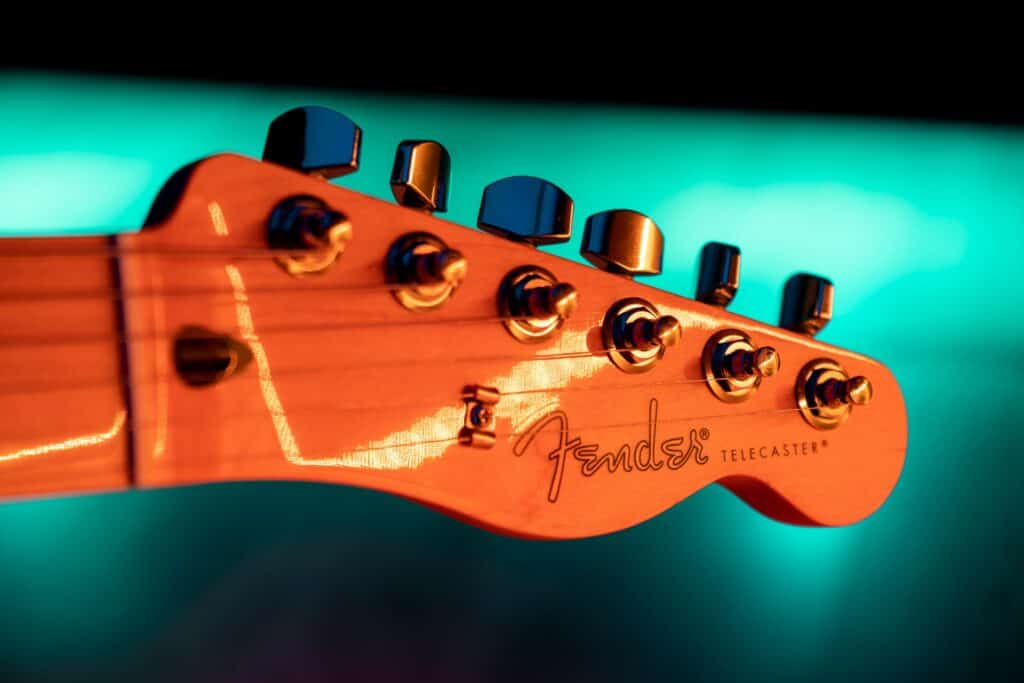 The iconic Fender brand has about seven distinct models. Here's all of them.
Stratocaster
Stratocaster is by far the most iconic Fender model of all time. Make a quick google search about Fender guitars, and you'll see many articles on the Stratocaster. There are about ten different models of Fender Stratocaster, ranging from $500 to $2000+.
Telecaster
Popularly known as "Tele", the Fender Telecaster offers an excellent value for your money with simplicity and quality at its core. The unique bridge, the body and headstock shape, and the two single-coil pickups all make Fender Telecaster a great pick. Fender Telecasters range from $850 to $2500.
Jazzmaster
With a warm and mellow sound, Fender Jazzmaster is a versatile guitar that appeals to various genres ranging from jazz, classic rock, and blues to country, fusion, and indie songs. A typical Fender Jazzmaster costs over $600.
Jaguar
The Fender Jaguar is a redesigned Jazzmaster. It comes with a switch that removes some low frequencies, giving the guitar a more glassy tone. The most exciting feature about the Jaguar is the amount of diversity it offers. Fender Jaguar costs between $750 to $3000+.
Lead
Manufactured in California, the Fender Lead guitar strikes a nice balance between affordability and quality. Its striking color options make it likeable. The price of a Fender Lead guitar starts at about $600.
Duo-Sonic
The Fender Duo-Sonic is an outstanding guitar because it is light and straightforward to play, allowing your fingers to run smoothly up and down the neck. An exciting feature is that it is adaptable enough to play most types of music. The starting price of a Fender Duo-Sonic guitar is about $800.
Mustang
Fender Mustangs are iconic in the music industry, setting the standard for decades. They have a distinct shape and sound when compared to other guitar models. It has a starting price of about $500.
Drawbacks of Fender Squier Guitars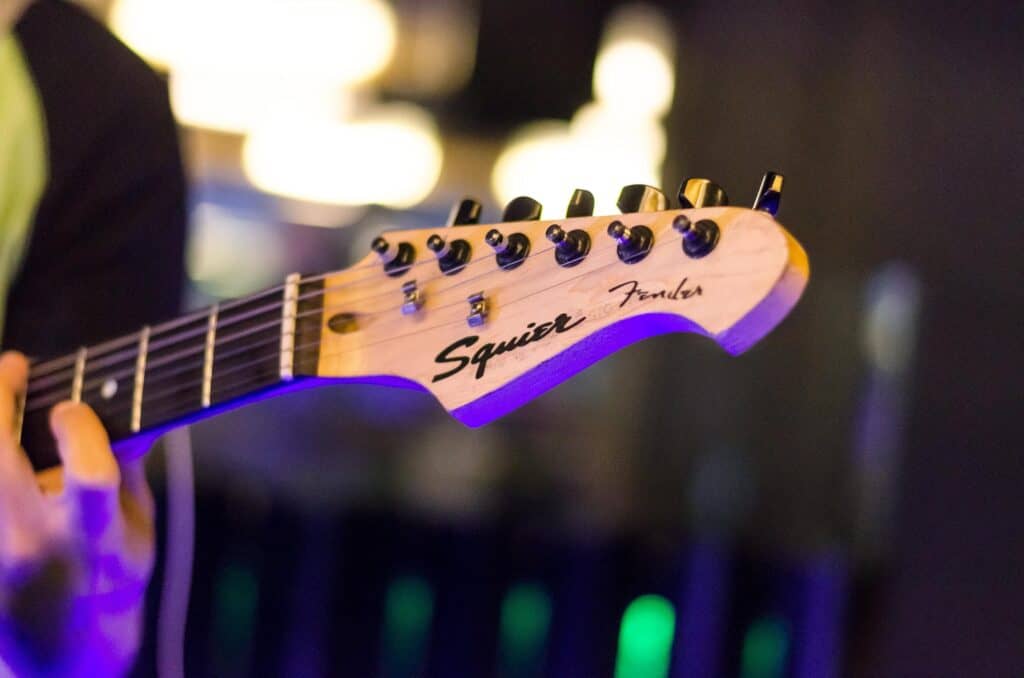 Squier is a sub-brand of Fender that produces low-budget variants of all Fender models. This helps put the rather classic design of the Fender models in the hands of many who can't justify spending over $500 on a guitar. Below are some demerits of Fender Squier models:
Squier Not Designed To Last for Long
This is perhaps expected from a low-budget guitar. The inexpensive construction materials are intended to give a novice player a taste of Fender with the hope that the player will move on to something better in the future.
However, with great care, a Squier guitar should serve you well.
Low-Grade Sound
Squier guitar pickups are weaker, and the materials used do not allow for the same tone depth as Fenders to keep prices down.
Tuning Difficulty
No guitar is made perfectly in tune, but this issue is more pronounced in Squier guitars. There's a high chance of having problems with the fretboard and tuners.
Reasons Why Fender Guitars Are Expensive?
There are several factors that contribute to the high price of Fender Guitars, the main factors are listed below.
Brand
Your quality becomes undeniable when music stars like Jimi Hendrix, David Gilmour, and Jeff Beck have used your guitars. Fender's endorsement of such great artists over the years proves that Fender is a great choice; it's only natural that people would want to play the same brand used by guitar legends.
Craftsmanship
Although specialized machines cut woods into a body and shape the neck with precision, there are aspects of Fender guitars that are left to expert luthiers. These experts also ensure that the guitars are made to satisfaction. This dedicated attention to detail makes Fender guitars pricey.
Tonewood
The difficulty of getting the finest tonewoods makes manufacturers increase the price of guitars. Fender uses two main tonewoods: alder and ash. While alder is relatively easy to get and work with, ash is challenging. This, in turn, leads to higher prices. 
Conclusion
Fender guitars are generally pricey and are best suited for experienced players. If you are a beginner, Squier guitars are excellent, providing a justifiable quality while giving you the feel of a Fender guitar.
Frequently Asked Questions
Are Fender guitars worth it?
This is totally up to you. Although a typical Fender guitar is strong and durable, only you can decide to make it worth your money. If you don't plan to stick with guitar long-term, then it's not advised to spend that much on a guitar. However, if you're a guitar enthusiast, a Fender guitar is priceless and you'll certainly enjoy playing with it.