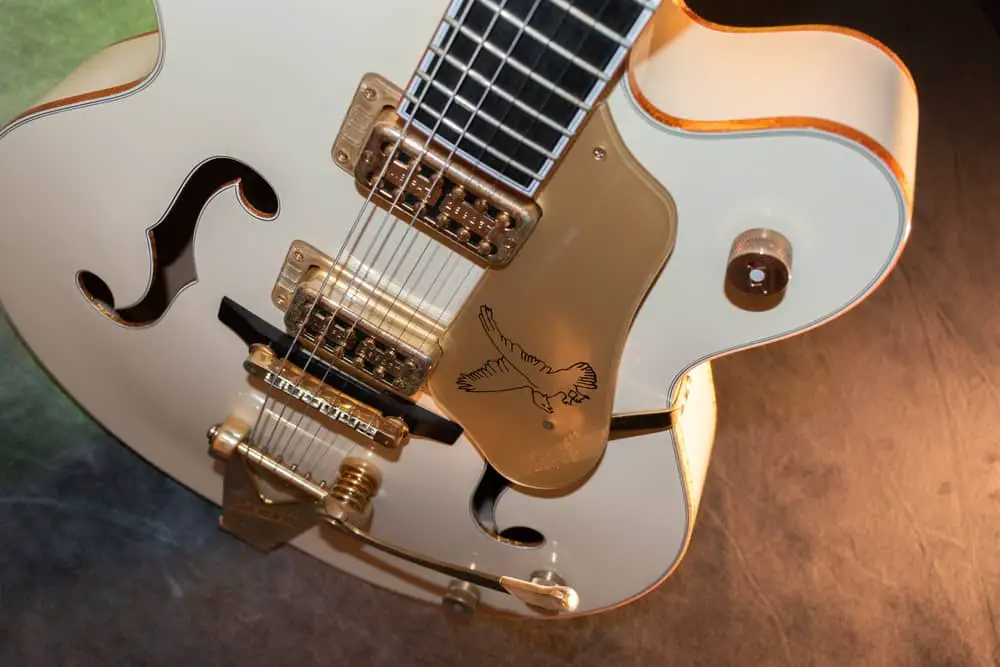 Fred Gretsch was only fifteen when he lost his dad and took control of the Gretsch company with his mother. The Gretsch band was initially set up to manufacture banjos, drums, and tambourines only, but after the early 90s boom in guitar demand, the company ventured into guitars.
It's been almost a century since they debuted their first guitar, and the Gretsch name has established itself as one of the leading guitar brands in the world.
Both past and present stars have played a Gretsch guitar for many years. So who are some stars who have played or currently play a Gretsch guitar?
Some of the guitar's famous players include the late George Harrison of The Beatles, Bo Diddley, Elvis Presley, Bono, and Brian Setzer of The Stray Cats.
Here, we'll look at some of the most prominent figures to have played the Gretsch guitar and some of the models they played.
Who Plays Gretsch Guitars?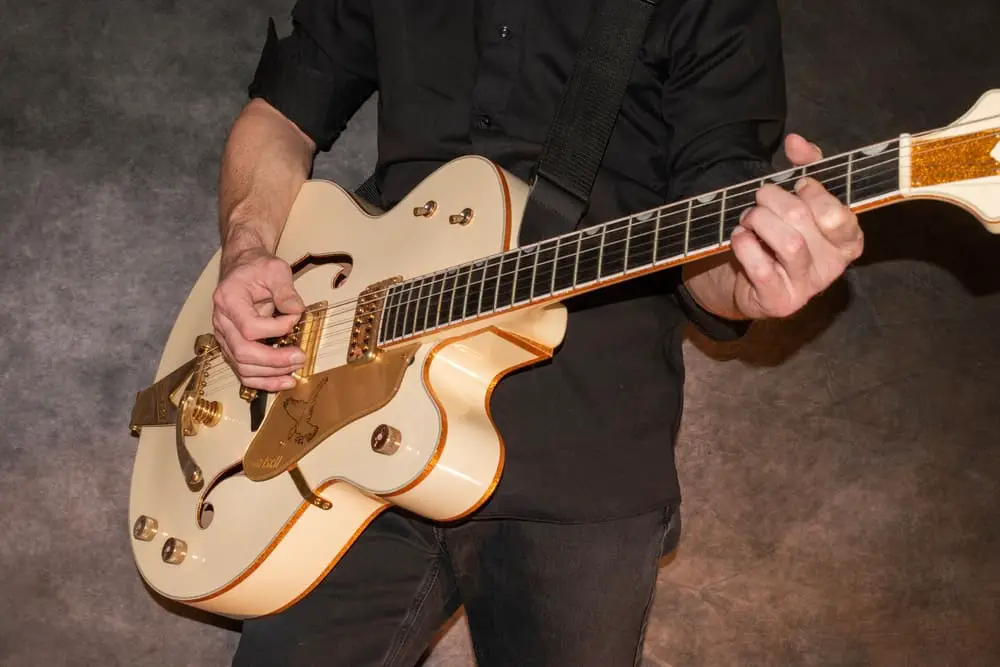 Truth be told, the Gretsch guitar brand has seen so many influential players over the years. In the 50s, 60s, and 70s, the brand was so popular that almost every rock band had a member who played it.
Coincidentally, the 50s, 60s, and 70s are widely regarded as the greatest timeline in rock music history, and so many legends played the Gretsch guitar.
Even now, the guitar is still the first choice of many popular rock bands. We've divided our list into past and current players.
Past Gretsch Players
Here are some dead or retired legends that played a Gretsch guitar.
Chet Atkins
Who better to start our list with than "Mr. Guitar" himself? Widely regarded as one of the world's greatest guitarists, Chet Atkins was the poster boy for Gretsch guitars.
Chet Atkins is also credited with being the founder of the Nashville sound we hear in many country and pop songs today. During his time, he partnered with Gretsch, and together, they created so many lines of guitars. None, however, comes close to the Country Gentleman.
The semi-hollow and sleek guitar were equipped with FilterTron pickups rather than the DeArmonds pickups commonly used for Gretsch guitars at the time. The country gentleman remains one of the world's most respected guitar players.
George Harrison
During their peak years in the 60s, hardly any musical groups could compare to the fame and popularity of the Beatles.
So when lead guitarist George Harrison appeared on The Ed Sullivan Show with a Gretsch Country Gentleman guitar, the whole world wanted one for themselves. That prompted a massive rise in Gretsch guitar sales and made the brand immensely popular.
George Harrison loved Gretsch guitars and used many of them in the span of his career. Many of his songs and performances with the Beatles featured a Gretsch guitar.
Malcolm Young
AC/DC's lead guitarist Malcolm Young was amongst the group's founding members and the backbone behind their success.
He's also one of the greatest rhythm guitarists to have played rock music, and in his prime, the 63 Gretsch Jet Firebird was one of his favorite pieces. The guitar was passed on to him by his senior brother George Young.
Present Gretsch Players
Here are some popular guitarists who currently use a Gretsch guitar.
Brian Setzer
After Chet Atkins, The Stray Cats is next in the iconic list of legends that revolutionized the rock music genre. Brian Setzer was one of the band's finest artists, and his elegant sound was all thanks to an orange '59 Gretsch 6120 he owned.
Brian Setzer's love for Gretsch led to the partnership that created the Gretsch Brian Setzer line in 1993. Since then, Gretsch and Setzer have collaborated more than a half dozen times.
Bono
U2 is undoubtedly one of the world's greatest bands. With over 150 million records sold and 22 Grammy awards won, they have established themselves as a leading force in the music scene.
Bono is the band's leading vocalist and rhythm guitarist. And though he's respected more for his expressive vocals than his guitar playing, he's still regarded as a guitar legend.
A soul green Gretsch Irish Falcon is his signature guitar and the product of his partnership with Gretsch.
The Bottom Line
Gretsch is one of America's finest guitar manufacturers and has been delivering high-quality guitars for several decades now. Are you looking for inspiration to buy a Gretsch guitar for yourself? You're in luck. Gretsch has a great list of guitarist that have played or are currently playing it.
George Harrison of the Beatles loved the brand a lot and played many of them throughout his career. Chet Atkins, Malcolm Young, Bo Diddley, and Brian Setzer are other past legends to have played a Gretsch guitar.
Currently, Bono of the U2 band plays a Gretsch Irish Falcon, and Stevie Young of the AC/DC band plays a Gretsch Jet Firebird.
The Gretsch guitar brand is as fine as they come, and if you're thinking of getting one, there's absolutely no reason not to.