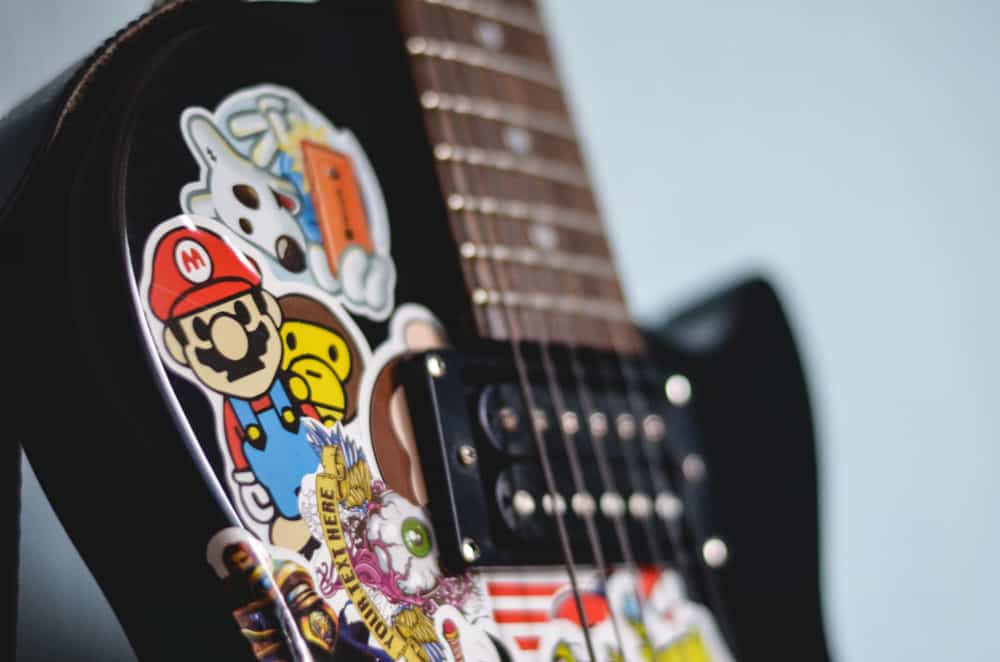 Is your guitar gathering dust in a nook of your home? You'll be amazed at how much of a difference a new perspective can make in refocusing your attention on your guitar. 
Customizing your guitar can be done in various ways, from adornments and bespoke parts to artistic designs. You can personalize the neck with fretboard inlay stickers and even put on colorful strings or custom tuning pegs.
As much as guitars are played with skills, it is also played with feels, and my approach here is very simple, the prettier your guitar is, the more you'd want to play it. 
Read on for all the methods to personalize your guitar, make it yours, and rekindle your love for playing.
Cover The Body With Stickers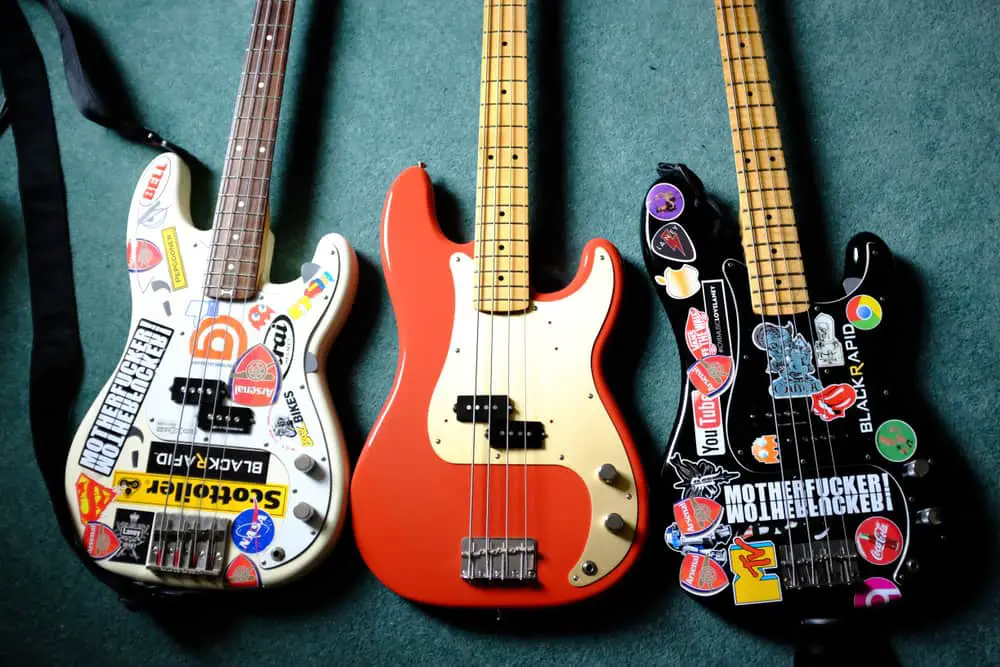 Customizing your guitar using stickers is a simple and inexpensive option. Decide on a design for your guitar based on the stickers you choose and the memories they evoke. 
It's essential to remember that applying an excessive number of big stickers may result in a distorted sound. To prevent making a mistake, stick to one or two of your favorites.
Try putting some letters on there. What is the name of your guitar? You can use different stickers to spell your guitar's name.
It's also a good idea to use a sticker representing your hometown to add a nostalgic appeal.
Use Fretboard Inlay Stickers to Personalize the Neck
Create a modern, edgy look for your fret inlay by applying stickers to it. Remove or loosen all of the strings on your guitar to have enough area to place the stickers on the fret inlay, which will allow you to put the stickers.
Fret inlay stickers are also relatively easy to replace, allowing you to experiment with different designs without long-term investment.
Decorate your fret with a row of birds that appear to be flying up to it.
Place a row of gears in the middle of your fretboard for a funky aesthetic.
Draw on the Body of Your Guitar
Pens are a great way to personalize your guitar. This is a low-cost option that is as configurable as possible. Hire a professional artist or use stencils to get the job done by yourself. Sharpies are an excellent choice for a design created at home!
Let your loved ones sign the body of your guitar to give it a personal touch.
A portrait of your pet, for example, could be drawn by a professional.
It's Time To Spruce Up Your Guitar
Your guitar will appear uniquely different if you give it a fresh color. You'll need to take the strings off the guitar, paint it, and then sand it again.
It takes a little longer, but the results are well worth the effort, whether you're looking for a new lavender, hot pink, or jet black guitar. If you want the most significant effects, use lacquer paint. Before painting your guitar, be sure you know what you're doing.
The body of your guitar can be transformed into an underwater scene by applying acrylic paints.
Opt for a pattern with a lot of different colors and patterns.
You may even use splatter paint to decorate your hardware.
Replace the Pickguard of the Guitar
New pickguards are a simple method to give your guitar a unique look that can be easily reversed. It's possible to add a dash of color, new forms, or even a funny design to your outfit. Removing an outdated pickguard on an acoustic guitar is possible, but it comes with some risk.
If you're pulling on anything and feeling a lot of resistance, don't apply force.
Try a bright red pickguard on your black guitar for dramatic contrast.
To jazz up your white guitar, add a leopard print pickguard.
Colorful Strings Can Be Added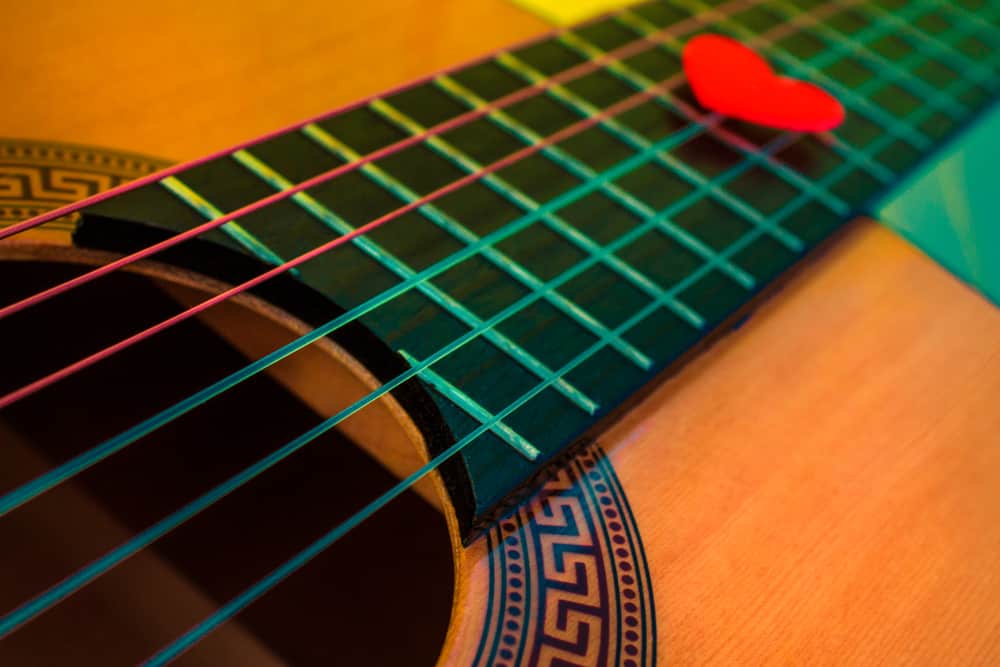 Changing the strings on your guitar can give it a new look. 
Your guitar's set will most likely come in various muted or metallic tones. 
However, you may play with pink, neon, brilliant blue, and even rainbow-colored guitar strings by uninstalling your old set and reinstalling a new one. 
Next time you have to get rid of an old set of strings, try a new color!
Custom Tuning Pegs Can Be Added
Changing the color of your guitar's tuning pegs can give it a new look. A screwdriver and five minutes are all you'll need to remove the device. Tuning pegs are generally interchangeable, but some guitars require unique dimensions; it is essential to ensure that the set you choose is compatible with your guitar before buying it.
For a vintage vibe, dress up a white guitar with gold accessories.
Pegs in the shape of hearts can be used.
If you have a black guitar, you may use colored pegs.
The installation is straightforward; however, this is an essential component of your guitar. Trying to save money in this area is a waste of time. Opt for the best of the best!
Make Your Truss Rod Cover Stand Out by Choosing a Unique Design
A cheap and easy option to personalize your truss rods is to use a unique truss rod cover. Thanks to the simple installation process, this is a quick and easy method to spruce up your guitar neck. Whatever style you choose, make sure that the truss rod will fit your guitar.
Customize your guitar with a truss rod cover with a word of your choice.
Consider a rose-patterned rustic wooden truss rod cover.
Use an eye-catching motif to cover your guitar's truss rod like a shark swimming through the water.
Replace the Bridge Pins
Your guitar's body can benefit from the addition of some new bridge pins. They're most likely going to be white or black on your guitar. However, you'll find various textures and colors if you search online. Pins can be inserted into your guitar's bridge holes once you discover a set that fits.
Try combining different materials, such as a wooden guitar with blue metallic pins.
Or, for a genuinely monochrome aesthetic, pair your white guitar with bone bridge pins.
Personalized pins are also available, such as tiny gray skulls.
Change Your Strap
The look of your guitar can be changed entirely with a new guitar strap. Your new favorite guitar strap might cost anywhere from $20-$80, depending on where you buy it. You can customize your guitar with a personalized strap if you have a preferred color or design.
An electric or acoustic guitar strap pin should be attached to at least one end of your new strap before it can be fastened. This is true for both the left and right sides of the guitar. Pins.
It's Time To Jazz Up Your Case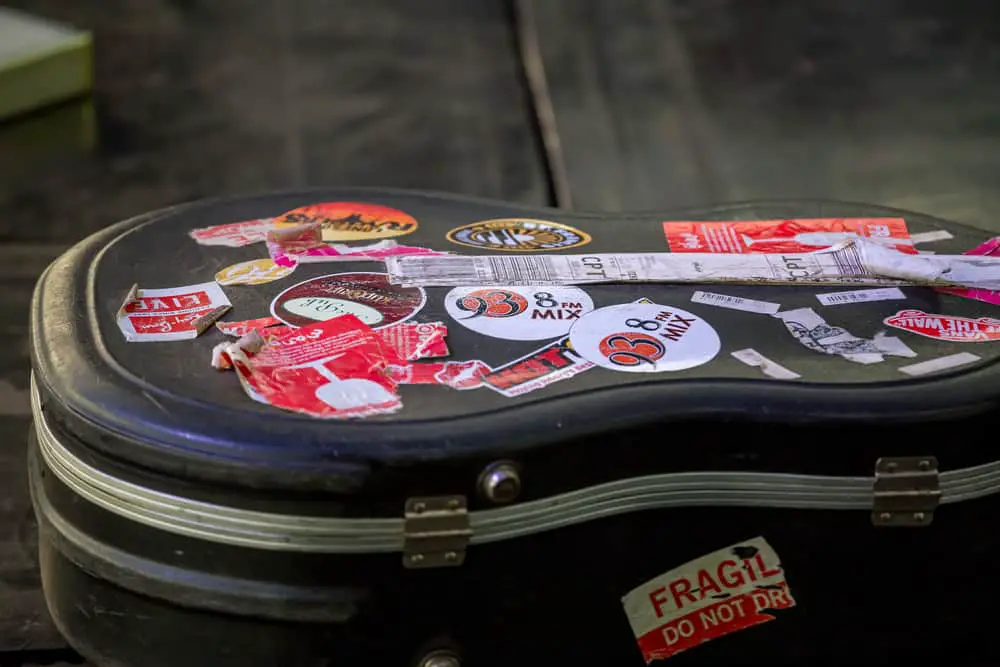 Adding a distinctive and personal touch to the overall appearance of your guitar is as simple as changing out the case. When decorating your case, you may use anything from stickers to paints to Sharpies.
Stickers from all the guitar's places should be placed on the case.
Inscribe a favorite lyric from a song on the outside with Sharpies and a stencil.
Alternatively, if you have a canvas bag, consider adding a fun patch with embroidery or iron-on decals.
Conclusion
Although I'm all for "it must sound good," still, it should look good too. Customizing your guitar to your taste establishes some kind of affectionate relationship with your guitar, just like naming it. Customizing it the way you want is like transferring some kind of personality onto your guitar.