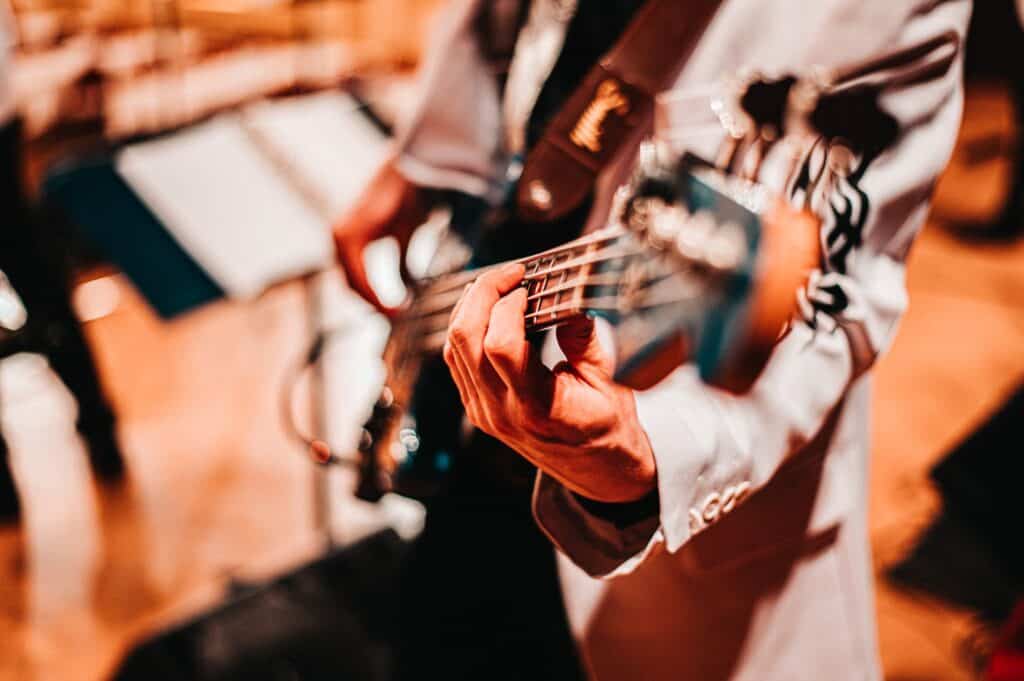 If you look at the best bands of all time every single member contributes something. While everybody normally knows the singer or the lead guitarist, it's often the bassist that goes unnoticed. However, for those in the know the bassist is an absolutely crucial part of any band. In fact studies have shown that bass guitar is the most important instrument in a band when making music.
So what makes the bass so important? Well there's actually a lot of science behind it that we won't go into here, but essentially our ears are better at detecting low pitched tones. This means that the most memorable songs contain heavy bass lines. The bass will also have a big impact on the rhythm of the song. For blues, rock, jazz or even metal where you want to get people dancing then having a solid bassline is essential.
Over the last few decades we've seen some incredible musicians who have transformed the industry. There's a lot of debate over who the best bassist of all time is and there are various lists online with differing results. When we put together this list we considered three main characteristics. Firstly it's about skill. Who has the fastest fingers and can create the most amazing music. Secondly it's about talent. Who can write and create music, as well as perform it. Finally it's about versatility. Who can mix and match, sing, dance, take over the stage and generally bring some flair.
So without further ado, here's our list of the top 5 bass guitarists of all time.
Geddy Lee
Geddy Lee is a Canadian musician and songwriter who is most famously known for being in the band Rush. From a young age he learned multiple instruments, playing trombone, guitar, piano and singing. This all came in useful when in Rush he was lead singer and bass guitar player.
Lee really stands out in the crowd because of his style. He's known for his hard playing of the strings and using bass to lead the song. In the 1960s and 70s this contrasted quite heavily with other bands, and helped influence how bass was used going forward.
Lee isn't just a magnificent talent on the strings. He's written a lot of music, provided vocals and played keyboard too, sometimes in the same song! He's earned a place in the bassist hall of fame and his name definitely belongs on this list.

Les Claypool
Les Claypool is an American born musician, singer, songwriter and producer who has influenced the music world we know today greatly. Claypool is the lead songwriter, vocalist and bass player for Primus, a funk metal band he founded. He has also had significant success with his solo career since the late 1990s.
Claypool is widely regarded as one of the best slap bass players in the world. He is well known for his tapping and slapping of the strings which helps create his distinctive funky style.
Claypool dedicates a lot of his inspiration to number 5 on our list, Geddy Lee. He claims to have watched Rush in concert and decided that he wanted to be a great bass player. He's truly a titan of the bassist world and continues to perform brilliantly today. Check some Guitarlisty Tutorials here about more on bassist & bass songs as well.

Paul McCartney
Paul McCartney is one of the most well known musicians in the world and almost needs no introduction. He is of course most famous for being a member of The Beatles, and for writing the majority of their music during their hugely successful career.
McCartney's style is noticeable in all of his music. Listening back through The Beatles you can clearly hear his melodic bass lines which shine through and give the song that something extra. In doing so, he challenged the traditional role of the bass guitar and helped elevate it to a dynamic lead instrument.
What's most impressive about Paul is his multi talented nature. Bass guitar was never his first choice, but he was able to turn his hand to it naturally. This natural talent really shows that McCartney is one of the best and he has undoubtedly earned his place at the top.

Flea
American born Flea is the bassist for the Red Hot Chilli Peppers. Flea began playing in the 1980s, where he explored different influences and honed his sound. The Chilli Peppers' music has some of the most recognisable bass lines and it's certainly the backbone of their best albums.
What is most striking about Flea's bass talent is the continued growth. At first he adopted a strong slap style, but over time he has weaved in more melodic parts to enhance the music. Alongside his work with the Red Hot Chilli Peppers he has collaborated with many other artists and shown his versatility across several musical genres.

John Entwistle
The number one spot on our list goes to London born John Entwistle who is most famously known as the bass player for The Who. Alongside bass guitar he is also proficient with guitar, piano and even French horn. He's also an accomplished vocalist and songwriter.
Entwistle has several nicknames, including Thunderfingers and Ox, which he has earned because of his impressive playing. If one word could be used to describe his style, it's power. He played bass like it was the lead instrument and wrote and performed powerful solos. The bass solo in 'My Generation' is undoubtedly the best ever written.
Entwistle is widely considered to be the best bass player that has ever lived. Several leading names have credited him as to why they took up the instrument in the first place. Sadly, Entwistle passed away at the age of 57 but his legacy still lives on today and he continues to inspire.
Conclusion
All of the musicians on our list have created amazing music over the years. What really stands out for all of these names is the multi-talented nature of all the individuals. Unlike some other instruments, you'll rarely find a great bassist who can't play anything else. All of those named above are strong vocalists and talented songwriters. They are also all great performers.
It's always difficult to narrow it down and whenever you revisit these lists you often find yourself questioning if certain names should move a few places. Thankfully we live in an age where new talent is being discovered every day and new names emerge regularly. Ultimately, music is always developing. Hopefully, we'll see some fresh faces rise up and successfully challenge for the top spots in the next few years.