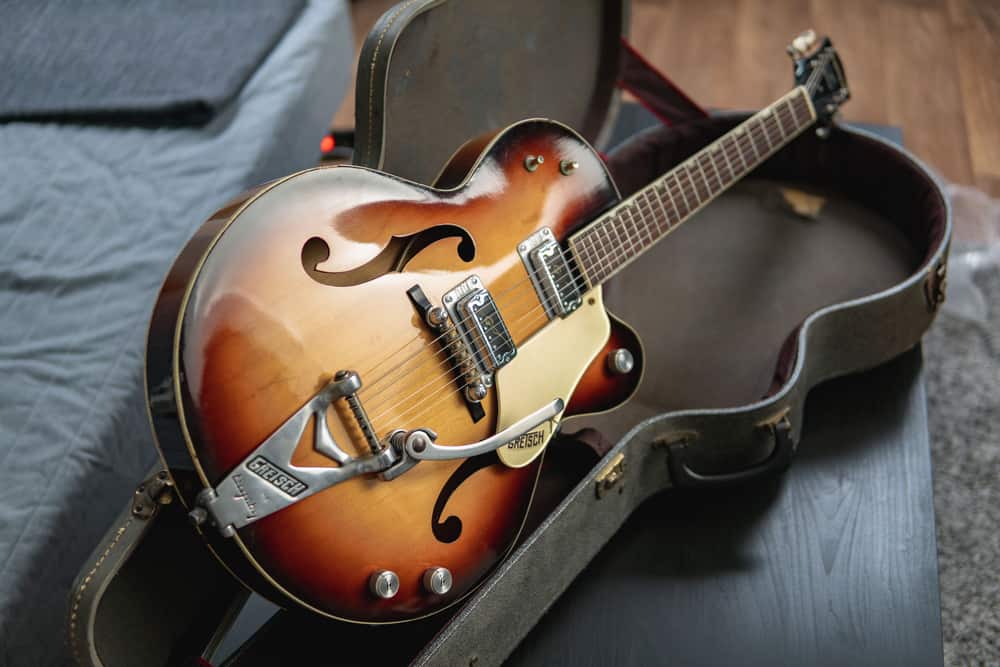 Are you playing a Firefly guitar? Do you want to know more about the company that manufactures them? Well, wonder no more! You've come to the right place!
Firefly guitars are mass-produced in China, but as for which factory, very little is known. They're being sold for a bargain price of just $139. That's an incredibly low price for a guitar, and it's made even more impressive by the fact that these guitars are actually pretty good for beginners.
In this post, we'll try to explore the making of Firefly guitars and introduce you to the different types of Firefly guitars. We'll also find out why Firefly guitars became so popular and where you can buy them today.
Who Makes Firefly Guitars?
Firefly guitars are a famous brand of electric guitars known for their decent quality and affordability. However, little is known about who makes these instruments. Firefly guitars are mass-produced in China, but the factory responsible for their production is a mystery.
After Amazon, Guitars Garden is the 2nd retailer of Firefly guitars.
Some believe that Guitars Garden is the company behind Firefly guitars, but this has not been confirmed yet. What is known for sure is that Firefly guitars are made with great care and attention to detail.
The Popularity of Firefly Guitars
Firefly guitars have become popular in recent years, primarily due to favorable reviews by YouTube guitarists. The first-ever review was made by famous Youtuber Guitar Max. His review went viral as he was the first person to show people the potential and amazing quality of Firefly guitars.
From there, many other YouTubers have followed his lead and created their reviews, which has led to an increase in the popularity of Firefly guitars.
The company offers beginner-friendly and budget-friendly guitars that have caught the attention of many guitarists looking for a good quality instrument without spending a lot of money.
Thanks to their affordable price and excellent craftsmanship, Firefly guitars are sure to continue being one of the most popular brands of electric guitars for years to come.
Different Types of Firefly Guitars
There are three main models of Firefly guitars introduced into the market as the exact copies of some famous, professional, and expensive guitars.
The FFLP: a copy of the Gibson Les Paul
The FF338: a copy of the Gibson E335
The FFTH: a copy of the Telecaster Thinline
Since their release, all three models of Firefly guitars have been selling like hotcakes. Even the new inventory of Amazon gets empty within hours after an update.
Keep in mind that their production is not finished. The only way to get a Firefly guitar is to order one when the new stock gets into the market.
What Is So Special About Firefly Guitars?
For only $139, Firefly Guitars offer an impressive array of features that make them stand out from the competition.
Their hollow body design makes them a lightweight instrument, perfect for beginner guitarists or those looking for a more portable option.
Their Impressive paintwork is sure to turn heads, with various colors and designs to choose from.
Their quality construction means that they are built to last, ensuring that you'll be playing your Firefly guitar for years to come.
So if you're looking for a high-quality, affordable guitar, then the Firefly guitar is definitely worth checking out.
Conclusion
The popularity of firefly guitars is still unparalleled as it is the best available match of perfect quality and an impossibly low price of $139. Who will pay a hefty amount of $3000 for a Gibson Les Paul guitar when a Chinese company is offering the almost exact copy of this for a mere $139 in the form of Firefly model FFLP.
We still don't know about the company designing these legendary masterpieces. But yes, we know what we need to know, and that is the stock of Firefly guitars is exclusively available at Amazon and Guitars Garden.
We would love to hear any further questions from you in this regard.
Frequently Asked Questions
What are Firefly guitars made of?
The wood used in Firefly guitars is Indian rosewood, which is known for its beautiful grain and tonal quality.
Do Firefly guitars have a website?
If you're looking to buy a Firefly guitar, your best bet would be Guitars Garden – they seem to be the only website other than Amazon that sells Firefly guitars. You will have better chances of finding the guitar here.