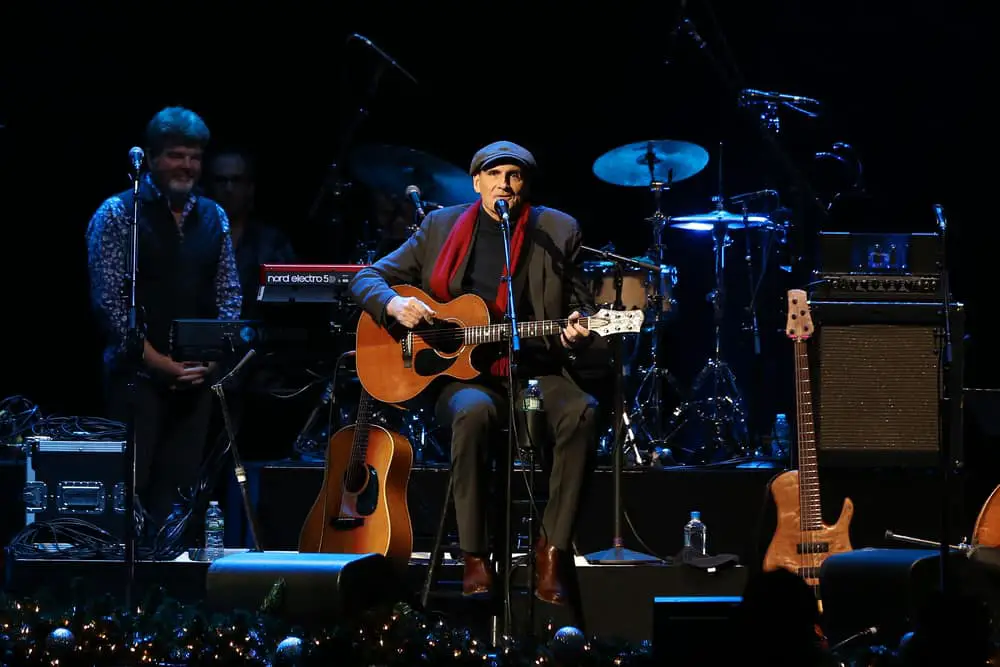 Let me guess, you admire James Taylor's way with the guitar, have been a fan for a while, and would love to play the guitar as good as him, but you don't know where to start.
As you may guess, James Taylor never had just one guitar. He has a career spanning decades, so you should expect he changed guitars at some point. But what guitars did he play?
Although he recorded his debut album, "Sweet Baby Dreams," with a Gibson J-50, he is more popular with the Olson. Many may argue that Gibson brings out his sound more, but his sound evolved with each guitar he took on.
Let's look at all the various guitars James Taylor played in chronological order and the features that made him fall in love with each of them.
Schirmer Music Company
When Taylor was 12, he got his first guitar- a store-brand guitar by the Schirmer Music Company. It was made of laminate—plywood with a protective plastic layer on either or both sides—in a classical-type way.
Unfortunately, his brother, Alex, spray painted it blue and destroyed the nut and bridge, turning it into a slide guitar. So he never played it again. It is sitting in the Rock & Roll Hall of Fame.
Fender Duo-Sonic
Produced in 1956, the Fender Duo-Sonic is a short-scale guitar made for amateur musicians and students. Fender made it simple, almost identical to a mustang in body style, with a vintage neck and frets. It is pretty popular among alternative and indie artists.
Gibson J-50
The Gibson J-50 is an acoustic guitar with a clean and straightforward appearance, manufactured with spruce and mahogany. Many adored it for its excellent projection, warm bass, and ease to play. Although outshone by its predecessor, the J-45, the J-50 is just as versatile.
At the start of his career in 1965, James got the Gibson J-50. He recorded his first songs: 'Something in the Way She Moves,' 'Fire and Rain,' and 'Carolina in My Mind' with the guitar. He played it consistently for about a decade before it got cracked and crinkled in his car trunk in freezing weather.
Whitebook
With its Indian rosewood design on its back and Adirondack pattern on its side, the Whitebook was a feast for the eyes of every guitarist. James acquired one in the 1970s, with which he recorded his 'Walking Man' album. He lost it in the early 80s.
However, the Whitebook wasn't the most excellent guitar Taylor used. It didn't have a pick-up and couldn't be amplified on stage during a performance.
Takamine
Takamine is a small-brand Japanese guitar. With a pick-up built into it, it could be amplified on stage, so he used it for his performances at the time. It was smaller than the Whitebook, but it served Taylor well.
Yamaha
James Taylor got a Yamaha guitar in the mid-80s. He describes it as bright sounding and very easy to play. It had a pick-up built into it and amplified well. It also had holes to keep the feedback down by covering them. He got a custom model made for him later on.
Olson
While on a benefit tour in 1989, Taylor found his first Olson guitar in his hotel room. And since then, he has never looked back. The quality of the Olson was second to none of his previous guitars, as he described it as concise and consistent. 
He spoke to lengths on how perfect the neck was, wider than any of his previous guitars but not as broad as a classical guitar. He found it incredibly comfortable and portable. The maker, James Olson, became a good friend of his and custom-made about half a dozen for Taylor. The Olson is his most famous guitar, and he still plays it to this day.
Fender Telecaster
Seymour Duncan designed the Fender Telecaster. It is an electric guitar and the latest addition to his guitar collection. With such a small frame, the Telecaster still had as wide a neck as the Olson, which is rare on an electric guitar.
Final Thoughts
Although James Taylor has many guitars, from even before his career started, he is well known for his Olson, as he played it in many of his performances. And while you may not have as sweet a voice as he does, you can still get your hands on an Olson to replicate his mesmerizing and intricate style. A style for which he would forever be known as one of the greatest guitarists of any generation.